Style Drawer In-Drawer Power Outlets in U-Shaped Drawers - Pro-Tip
Style Drawer in-drawer powering outlets can be installed into U-Shaped drawers in bathroom vanities. These drawers are commonly used as storage space. With help from Docking Drawer, you can keep these drawers organized, too! Store your hairdryers, curling irons, flat irons and more in your drawer or create a styling station complete with an in-drawer powering outlet from Docking Drawer.
Did you know? Our customers frequently install a Style Drawer in-drawer powering outlet into their U-shaped drawers.
Some customers worry that an in-drawer outlet will be too bulky for their space, but Style Drawer can fit into most U-shaped drawers. While the width of the drawer is often narrow (more narrow than our specifications require) the arms of your outlet can point towards the open space in the center of the drawer. This assumes that doing so won't interfere with your plumbing, of course! Because the arms get more narrow as the drawer opens, there's usually enough room in the drawer for an in-drawer powering outlet.
Style Drawer Blade Installation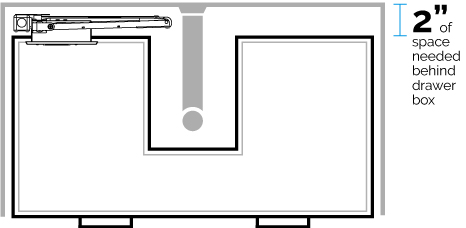 Have a double sink vanity? No problem! Those with U-shaped drawers also have enough room between the two sinks inside the drawer.
There are no electrical code issues having your device below the sink as long as you the electrical connection is protected by a GFCI protected circuit.
---
Rather talk to an outlet expert? Call us at (530) 205-3625