You are viewing an Unlisted article which can only be accessed by people with the direct link.
This article is no longer supported. Please visit our Support Library for the latest information.
In-Drawer Charging to In-Drawer Powering Outlet Conversion
Education is always top of our minds at Docking Drawer. That's because we know installing a charging outlet or powering outlet is no small thing. When our customers are well-informed, they have more confidence in our products and specify them into more projects. Because our website and sales literature is setup to help people decide what kind of outlet they need we don't often find ourselves fielding the, "What outlet do I need?" question.
But a question we do find ourselves sometimes fielding is, "Oh no. I've installed the wrong kind of outlet. How do I fix this?"
In most instances, customers want to go from a charging outlet to a powering outlet. At first it doesn't seem too overwhelming. But because a powering outlet may require a lot more space behind the drawer box, changing your outlet can quickly seem like a costly headache.
Don't panic.
Here are a few differences between a Blade Series charging outlet and a Style Drawer powering outlet installation including:
Your electrical connection: A charging outlet connects to a power source via a plug and a powering outlet is hardwired via the Style Drawer Series outlets junction box.
The space behind the drawer box: Charging outlets fit into 2 inches of space behind the drawer box. Powering outlets need 2 inches for a Style Drawer Blade and 5 inches for a Style Drawer Flush.
Receptacle box cut out: The charging receptacle box cut out shares a similar width specification to the powering outlet. The height of the charging receptacle box cutout is also less than the powering outlet cutout.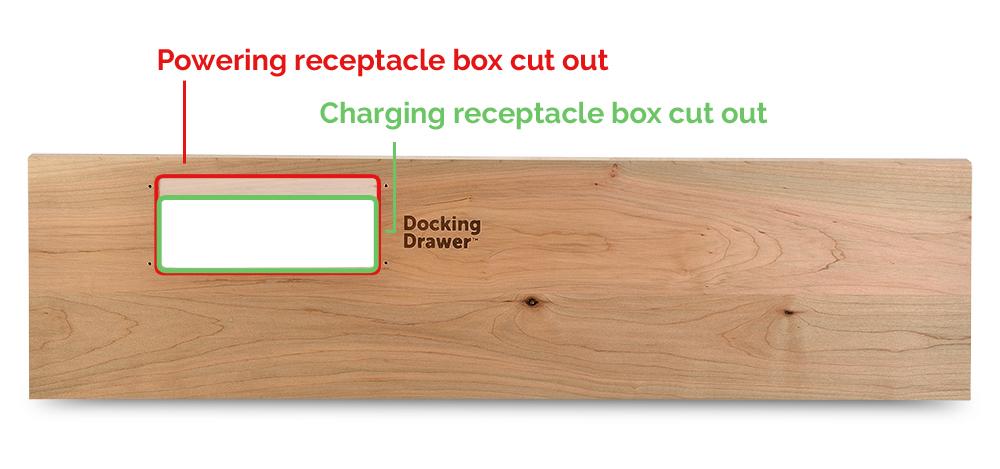 Pro Tip: Specify a Style Drawer Blade or Style Drawer Flush when correcting a charging outlet installation to a powering outlet installation. The cover plate will cover the entire cutout.
It's quite simple to correct the specification mistake. In fact, in just a few easy steps your customer can go from having a charging outlet to having a powering outlet.
Create an electrical connection plan. Use the Docking Drawer Electrical Planning Guide to help you.
Determine how to create the space needed behind the drawer box. The most common approach is to step down the drawer box size. If your project utilizes self closing undermount slides, they come in 3" increments. In other words, a 21" deep vanity will typically have an 18" deep drawer box.
Increase the receptacle box cut out in the back of the drawer box
That's it! The next time your customer realizes they'd prefer a powering outlet to a charging outlet, it isn't difficult to give them what they're requesting. As always, if you need any assistance the experts at Docking Drawer are always happy to help you.
---
Rather talk to an outlet expert? Call us at (530) 205-3625